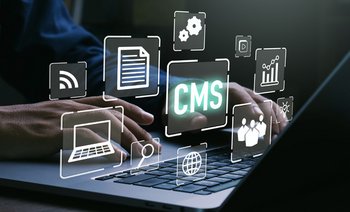 Create, edit, organise and publish in an instant
Sure, a (very) small website can be built entirely in HTML. But as soon as multiple editors have frequent access to different content, multiple languages, responsive designs and lots of features come into play, the solution is a content management system. Discover the world of modern and professional websites! TYPO3 is our choice. Our services include the installation, configuration and integration of TYPO3, a flexible and powerful Open Source software for creating and managing websites and their content. Why TYPO3? There are many reasons:
Where TYPO3 excels
The professionalism of our TYPO3 solutions will be directly reflected in the quality of your website.
Regardless of the size of your site - from a small site to a large multi-national site with complex user rights - TYPO3 allows for scalable design.
The flexibility of TYPO3 allows us to meet your individual requirements. Whether you need a simple TYPO3 website, a comprehensive TYPO3 portal or a sophisticated TYPO3 solution.
Scalability is another trump card of our TYPO3 strategies. Your website can grow with your business without you having to worry about the technical challenges. This gives you the freedom to focus on what's important - your business.
Our TYPO3 solutions are backed not only by a strong community of developers, but also by a supportive TYPO3 Association. This means that you benefit from a network of dedicated experts who are constantly working to improve and develop TYPO3.
Security: TYPO3 takes security very seriously and is regularly scanned for vulnerabilities. The active community helps to identify and fix security problems quickly.
Enterprise-level features - TYPO3 is often used for large corporate websites because it offers features for complex projects. These include versioning, workflow management and sophisticated user management.
Search Engine Optimisation (SEO): TYPO3 offers functions that facilitate the optimisation of content for search engines. This is important to improve the website's visibility in search results.
Let our TYPO3 expertise give your website the professionalism, flexibility and scalability that your business deserves.