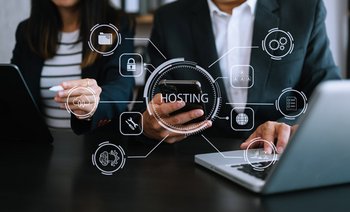 Nomen est omen - Domain names and registration
A good domain name should be easy to remember and easy to spell. Ideally it should represent the name or business of your company, be as short as possible, contain no special characters, be SEO friendly and ideally unique and... not taken!
We can help you find the perfect name for your website and register it with no hassle.
Even the "cloud" consists of servers and network devices - hosting
To help you focus on your (business) success, we support you at all technical levels and will not leave you alone in case of problems:
We have put together hosting packages to meet your individual needs. Whether you have a small website or a complex web application, we will find the right solution for you.
We are your single point of contact at all technical levels - from server to web application to content. We not only take care of necessary updates, but also migrations and integrations of web applications, so you can focus on your core business.
We also take care of the tedious tasks such as backups, restores, performance optimisation and security issues. Your online presence is in safe hands with us.
Our strength lies not only in managing individual systems, but also in connecting them. We know the technology stack from top to bottom and look beyond the technology horizon to bring you innovative solutions.
In a constantly evolving digital world, we stay on top of things. We make your technical challenges our own and support you with expertise, commitment and personal service.
Privacy, security and legal responsibility are of increasing importance. This is why our servers are located in Germany. This proximity to website visitors also has a positive effect on availability, loading times and connectivity stability.