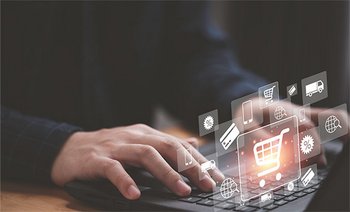 Online shops - shopping from your sofa, worldwide
The trend towards online shopping is undeniable. If you want to shift your customers' focus to online sales to meet the growing consumer preference for convenient shopping from home or on the move, we can help.
Set new standards for your online store with Shopware, our favourite e-commerce software from Germany.
We can help you make your product presentation individual and appealing. Shopware gives you full control over product images, descriptions, prices and more.
The advantages of Shopware over other systems
Flexibility and adaptability: Shopware is known for its high level of flexibility and customisability. It makes it possible to design and customise the online shop according to the specific needs of a company.
Modular system: Shopware uses a modular system that allows features and extensions to be added or removed as required. This facilitates scalability and customisation of the system.
Responsive design: Shopware natively supports responsive design, which means that the online stores created work well on different devices, from desktops to smartphones.
Ease of use: Shopware's user interface is user-friendly and intuitive, making it easy to manage the online shop. It is generally accessible to both beginners and experienced users.
Marketing features: Shopware offers a variety of marketing features, including discount promotions, coupons, cross-selling options and more. This helps to increase customer loyalty and boost sales.
Community and support: Shopware has an active community, which means that users have access to a wide range of resources, forums and support options. Professional support is also available from Shopware itself.
SEO friendly: Shopware emphasises search engine optimisation (SEO) and offers features that make it easier to optimise the online shop for search engines. This can help improve visibility in search results.
International support: Shopware offers features for international expansion of online shops, including multilingualism, multiple currencies and country-specific configurations.
Performance: Shopware is designed to offer good performance even with large product catalogues. The platform is designed to optimise loading times and ensure a smooth user experience.
No matter what your requirements are, you will get a tailor-made e-commerce solution. Your sites will always look professional on desktops, tablets and smartphones.
Conquer international markets effortlessly with Shopware's support for multilingual web store management. Showcase your products worldwide.